The History of Olathe Ford Lincoln
The Olathe Ford Lincoln as we know it today, began in 1973 when Dee Bradley and Don Maddux purchased the business from Griff and Vivian Crawford. 30 years later in 2003 two long time employees, Sam Mansker and Marc McEver, purchased the business and still own it today. 
Starting out with 30 employees and selling around 60 units per month, Olathe Ford Lincoln has grown to over 300 employees and sells approximately 25,000 units per year. With the growth has come many additional departments including RV, Fleet, Commercial, Lincoln, AFI, Fleetpool USA and many more.
We became Blue Oval Certified by Ford in 2001 and since we have been named a member of Ford's Top 100 Club 25 times. We have won the Ford Triple Crown Award and received the President's Award from Ford 14 times.
Thanks to our employees, many of whom have chosen to make Olathe Ford Lincoln their career, we have earned the reputation as a great place to do business.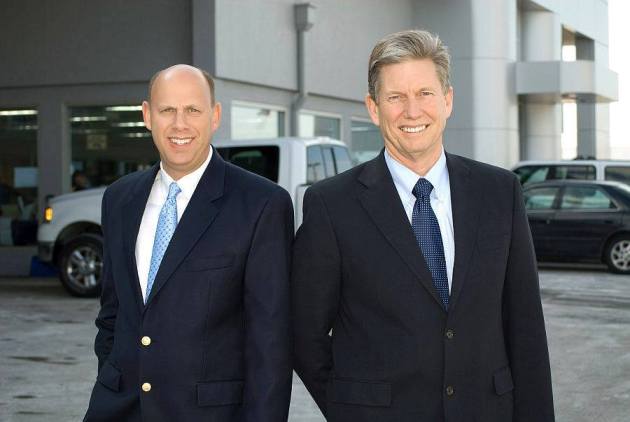 Left: Marc McEver Right: Sam Mansker
Who We Are Today
Our dealership is staffed with a great team and we focus on delivering superior service to our customers. Our atmosphere is one of familiarity and cheer, and we believe that going the extra mile is just part of the process. We hope when you visit, you'll sense something different about our dealership. Something worth your business.
Our Mission Statement
At Olathe Ford Lincoln, we believe in building relationships and providing customers with the best sales and service experience possible. We make sure it's fixed right the first time. Here at the Home of the World's Happiest Customers, every customer leaves with smile!
Our Values
Nothing is more important to us than integrity, honesty, respect, community support, good relationships with customers and employees, and helping our customers find what they desire.