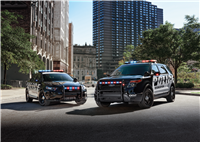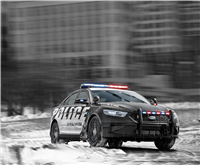 Olathe Ford Lincoln is a bid participant in the Kansas and Missouri local Metropolitan bid and can provide a vehicle for your needs through this bid. Olathe Ford Lincoln also does outfitting on Police and Specialty Emergency vehicles. Call or
Email
Debi to find out more. 913-312-2224
Olathe Ford Lincoln is the Midwest's only Ford Dealer with Certified Emergency Vehicle Technicians!
Ford Expedition/EL Special Services: All-new 2018 Expedition is at the top of its game. a refined and spacious cabin boasts incredible room for both people and cargo. The Expedition and Expedition EL are built with the needs of law enforcement and fire departments in mind. The column shifter is available in either 4x2 or 4x4 configurations.
Ford Police Interceptor and Utility Sedans: built on 60 years of knowledge and expertise. They utilize what Ford has learned through research and development relationships with law enforcement professionals. Features include:
Pursuit-rated all-wheel drive (AWD)
Police-programmed AdvanceTrac Stability
4-wheel anti-lock disc brakes
Police tuned 6-speed transmission
V6 powertrains which provide you with a fuel economy bump, as well as a performance boost
Ford F-150 Special Service Vehicle Package: now available, fulfilling fleet customer requests for adaptability and efficiency. Ford Motor Company, the top selling commercial truck brand for 27 years, is now offering a new F-150 Special Service Vehicle (SSV) Package aimed at government, municipal and commercial fleets. An F-150 equipped with the SSV Package will be of particular interest to our government customers with rugged jobs such as law enforcement, firefighting and national/state park patrols. 
Ford Fusion & Fusion Hybrid: dramatic, all-new Fusion is longer, wider, higher, more powerful and more efficient than ever before. Available Models:
Ford Escape: all-new, smarter way to get there. A pair of turbocharged EcoBoost engines are available for more power per every drop of fuel. Available Models:
Ford E-Series: America's favorite full-size van sales leader for 33 years straight. The E-Series lineup is a solid testament to trust-- and definitely a master of all trades. Available Models:
Van
Wagon
Cutaway
Stripped Chassis
Ford Transit Connect: Designed compact and engineered tough. The Transit Connect can be built specifically for any municipality or business. Transit Connect provides you with the comfort of a car and the utility of a truck. Available Models:
Van
Wagon
XLT Premium Wagon
Transit Connect Electric